The Fermi Science Support Center (FSSC) runs the guest investigator program, creates and maintains the mission time line, provides analysis tools for the scientific community, and archives and serves the Fermi data. This web site is the portal to Fermi for all guest investigators.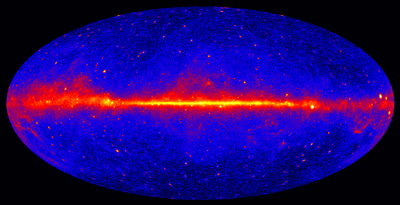 Look into the "Resources" section for finding schedules, publications, useful links etc. The "Proposals" section is where you will be able to find the relevant information and tools to prepare and submit proposals for guest investigator projects. At "Data" you will be able to access the Fermi databases and find the software to analyse them. Address all questions and requests to the helpdesk in "Help".
Fermi Observations for MW 503
Mission Week 503 continues the survey profile from MW 502. On DOY 018 at 00:00:00, a 10 minute "freeze" observation occurs during which the updated survey profile for this week is loaded. That profile, using the regular 50 degree rock angle, then continues for the remainder of the week.
Latest News
Jan 04, 2018
Preliminary LAT 8-year Point Source List
As a prelude to the forthcoming Fermi LAT 4FGL catalog, a preliminary list of sources (FL8Y) based on 8-years of integration and employing the up-to-date (PASS-8) calibrations and event selections has been made available to the community through the FSSC by the LAT instrument team. This release is primarily intended to support the preparation Cycle-11 Fermi Guest Investigator proposals. We stress its preliminary nature and strongly encourage users to carefully read the accompanying documentation.
Nov 28, 2017
Call for Fermi Cycle-11 Guest Investigator Proposals
The call for Fermi Cycle-11 Guest Investigator proposals has been officially issued by NASA Headquarters. Proposals are due on February 23, 2018 at 16:30 EST. Please refer to additional information provided on the Proposals section of this web site.
Oct 16, 2017
Fermi's GBM Spots Merging Neutron Stars
At 12:41 UT on August 17, 2017, the Gamma-ray Burst Monitor (GBM) on board NASA's Fermi Gamma-ray Space Telescope automatically triggered on a gamma-ray burst and classified it correctly, just as it does about 240 times per year. This particular trigger, however, had a unique friend: a near-simultaneous gravitational-wave detection from the LIGO-Virgo global network of interferometers.
+ Read More