The Fermi Science Support Center (FSSC) runs the guest investigator program, creates and maintains the mission time line, provides analysis tools for the scientific community, and archives and serves the Fermi data. This web site is the portal to Fermi for all guest investigators.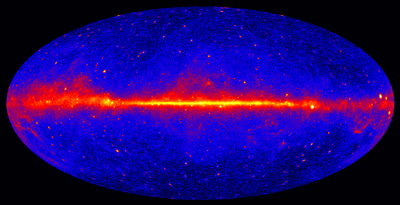 Look into the "Resources" section for finding schedules, publications, useful links etc. The "Proposals" section is where you will be able to find the relevant information and tools to prepare and submit proposals for guest investigator projects. At "Data" you will be able to access the Fermi databases and find the software to analyse them. Address all questions and requests to the helpdesk in "Help".
Fermi Observations for MW 541
Mission Week 541 starts with a brief continuation of the fixed +50 degree rock profile from MW 540. On day 284 at 00:05z there is a 10 minute freeze observation during which an updated +50 degree rock profile is loaded. This profile continues for the remainder of the week. Note that positive rock angles are south, and negative angles are north.
Latest News
Oct 15, 2018
Fermitools 1.0.0 Release
The Fermi Science Support Center is pleased to announce the release of Fermitools 1.0.0, the first release of the Fermi ScienceTools data analysis suite available via the Conda package manager. For instructions on how to install the tools, release notes, troubleshooting, error reporting, and other related documentation see the Fermitools Wiki.
Oct 3, 2018
Painting the Sky in Gamma Rays
The Fermi Gamma-Ray Space Telescope and the Maryland Institute College of Art (MICA) proudly present the world premiere of the animated short "Fermi 10x10" and a series of short animations that explore some of the fascinating discoveries made by Fermi through the lens of art.
+ Learn More
Aug 16, 2018
Fermi Symposium Abstract Deadline
The abstract deadline for the Eighth International Fermi Symposium is Aug 24, 2018. This is a hard deadline for any oral contributions. A preliminary block schedule is also now available.
+ Learn More