The Fermi Science Support Center (FSSC) runs the guest investigator program, creates and maintains the mission time line, provides analysis tools for the scientific community, and archives and serves the Fermi data. This web site is the portal to Fermi for all guest investigators.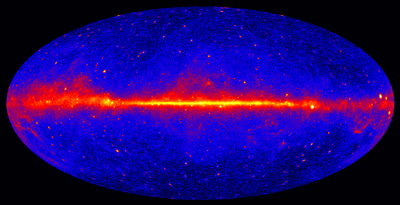 Look into the "Resources" section for finding schedules, publications, useful links etc. The "Proposals" section is where you will be able to find the relevant information and tools to prepare and submit proposals for guest investigator projects. At "Data" you will be able to access the Fermi databases and find the software to analyse them. Address all questions and requests to the helpdesk in "Help".
Fermi Observations for MW 451
Mission Week 451 continues the 50-degree sky-survey rocking profile. The week begins with begins with a 10-minute inertial point observation during which the new survey profile is uploaded. This profile continues through the end of the week. There are no special observations scheduled this week.
Latest News
Jan 06, 2017
Cycle-10 Proposal Due Date
Contrary to what you may have heard elsewhere, proposals to the Fermi Cycle-10 Guest Investigator Program are due by 16:30 EST February 24, 2017. Proposers should be aware of the several new developments which are detailed on our Proposals page and in the Fermi appendix to the 2016 ROSES NRA.
Sep 29, 2016
NASA's Fermi Finds Record-breaking Binary in Galaxy Next Door
Using data from NASA's Fermi Gamma-ray Space Telescope and other facilities, an international team of scientists has found the first gamma-ray binary in another galaxy and the most luminous one ever seen. The dual-star system, dubbed LMC P3, contains a massive star and a crushed stellar core that interact to produce a cyclic flood of gamma rays, the highest-energy form of light.
+ Read More
Sep 20, 2016
New Version of the Fermi Science Tools
The FSSC is pleased to announce the availability of a version of the Fermi Science Tools that can be built from source on OS X 15.6 (el Capitan). This release is *only* for users with problems using the binary version of the tools on el Capitan. Users should be aware that this version of the tools does not support the ROOT or gtburst software.