The Fermi Science Support Center (FSSC) runs the guest investigator program, creates and maintains the mission time line, provides analysis tools for the scientific community, and archives and serves the Fermi data. This web site is the portal to Fermi for all guest investigators.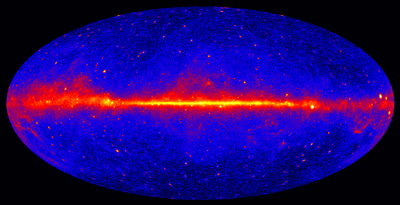 Look into the "Resources" section for finding schedules, publications, useful links etc. The "Proposals" section is where you will be able to find the relevant information and tools to prepare and submit proposals for guest investigator projects. At "Data" you will be able to access the Fermi databases and find the software to analyse them. Address all questions and requests to the helpdesk in "Help".
Fermi Observations for MW 783
Mission Week 783 begins with a continuation of the symmetric +/-50 deg. profile from the previous week. Then, on DOY 152 (2023-6-1) at 02:25 UT a 10-minute freeze observation occurs during which a symmetric +/-50 deg. profile is loaded. Next, on DOY 157 (2023-6-6) at 12:21 UT a 10-minute freeze observation occurs during which an asymmetric +50/-60 deg. profile is loaded. This profile continues until the end of the mission week. Note that positive rock angles are south, and negative rock angles are north.
Latest News
May 23, 2023
Fermi Cycle-16 GI Selected Programs Announced
The stage-I selection process for the Fermi Cycle-16 Guest Investigator program has been completed. There were a total of 36 new programs selected for stage I out of 90 proposals submitted. A list of the selected programs, including the PIs, titles and abstracts is available on the FSSC web site.
Mar 28, 2023
NASA Missions Study What May Be a 1-In-10,000-Year Gamma-ray Burst
On Sunday, Oct. 9, 2022, a pulse of intense radiation swept through the solar system so exceptional that astronomers quickly dubbed it the BOAT - the brightest of all time.
+ Read More
Mar 15, 2023
NASA's Fermi Captures Dynamic Gamma-Ray Sky in New Animation
Cosmic fireworks, invisible to our eyes, fill the night sky. We can get a glimpse of this elusive light show thanks to the Large Area Telescope (LAT) aboard NASA's Fermi Gamma-ray Space Telescope, which observes the sky in gamma rays, the highest-energy form of light.
+ Read More