The Fermi Science Support Center (FSSC) runs the guest investigator program, creates and maintains the mission time line, provides analysis tools for the scientific community, and archives and serves the Fermi data. This web site is the portal to Fermi for all guest investigators.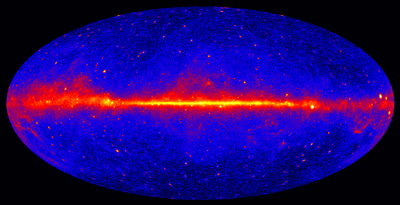 Look into the "Resources" section for finding schedules, publications, useful links etc. The "Proposals" section is where you will be able to find the relevant information and tools to prepare and submit proposals for guest investigator projects. At "Data" you will be able to access the Fermi databases and find the software to analyse them. Address all questions and requests to the helpdesk in "Help".
Fermi Observations for MW 511
Mission Week 511 starts with a 10 minute "freeze" observation during which the updated survey profile for this week is loaded. That profile, using the regular 50 degree rock angle, then continues for the remainder of the week.
Latest News
Mar 16, 2018
Fermi Friday: Behind the Scenes
To understand black holes at the centers of distant galaxies, scientists combine Fermi data with information from other wavebands. By viewing these objects in the radio, we can see how their jets change over time.
+ Read More
Mar 09, 2018
Fermi Friday: Tech Talk
Scientists monitoring Active Galactic Nuclei need to know when one of them starts to flare. As an all-sky scanning instrument, Fermi is often the first to detect activity. Find out how the data gets to scientists quickly to allow for rapid multi-wavelength observations.
+ Read More
Mar 02, 2018
Fermi Friday: AGN Month!
What are Active Galacti Nuclei, and why are they so interesting to Fermi scientists? Find out more about these giant, powerful, and numerous gamma-ray objects.
+ Read More
Feb 15, 2018
New Femi Science Tools Release
The FSSC is pleased to announce the availability of a new version of the Fermi Science Tools, developed jointly with the Large Area Telescope Collaboration and the Gamma-ray Burst Monitor Team. The tools can be downloaded at https://fermi.gsfc.nasa.gov/ssc/data/analysis/software/