The Fermi Science Support Center (FSSC) runs the guest investigator program, creates and maintains the mission time line, provides analysis tools for the scientific community, and archives and serves the Fermi data. This web site is the portal to Fermi for all guest investigators.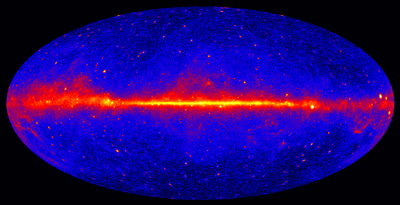 Look into the "Resources" section for finding schedules, publications, useful links etc. The "Proposals" section is where you will be able to find the relevant information and tools to prepare and submit proposals for guest investigator projects. At "Data" you will be able to access the Fermi databases and find the software to analyse them. Address all questions and requests to the helpdesk in "Help".
Fermi Observations for MW 468
Mission Week 468 starts with a 10 minute pointed observation during which a new rocking profile is loaded. This rocking profile continues until day of year (doy) 144 at 01:57. There is then another 10 minute pointed observation during which a new rocking profile with a 55 degree rock angle is loaded. This is to avoid potential technical issues related to the high beta angle (angle between orbit plane and direction to the Sun) at this time. This rocking profile is used until the end of the week. Between doy 142 06:02 to 07:12 a routine LA calibration will occur and no observational data will be accumulated during this interval.
Latest News
Apr 24, 2017
NASA's Fermi Catches Gamma-ray Flashes from Tropical Storms
About a thousand times a day, thunderstorms fire off fleeting bursts of some of the highest-energy light naturally found on Earth. These events, called terrestrial gamma-ray flashes (TGFs), last less than a millisecond and produce gamma rays with tens of millions of times the energy of visible light.
+ Read More
Feb 21, 2017
NASA's Fermi Finds Possible Dark Matter Ties in Andromeda Galaxy
NASA's Fermi Gamma-ray Space Telescope has found a signal at the center of the neighboring Andromeda galaxy that could indicate the presence of the mysterious stuff known as dark matter. The gamma-ray signal is similar to one seen by Fermi at the center of our own Milky Way galaxy.
+ Read More
Feb 08, 2017
GBM Response Generator Software
The Fermi GBM team has provided a portable version of their response matrix generation software and associated calibration files. Previously, this was available to the public only via an interactive web interface. The response file generator facilitates production of response files for a GBM triggered event or for an arbitrary source location at an arbitrary time for each of the GBM detectors. The intent is to better facilitate studies such as candidate, non-triggered GRBs or solar flares, TGFs and searches for electromagnetic counterparts to gravitational waves. To obtain the software please visit the FSSC GBM data analysis web page.