The Fermi Science Support Center (FSSC) runs the guest investigator program, creates and maintains the mission time line, provides analysis tools for the scientific community, and archives and serves the Fermi data. This web site is the portal to Fermi for all guest investigators.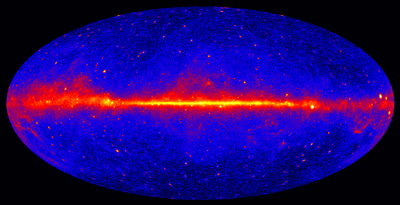 Look into the "Resources" section for finding schedules, publications, useful links etc. The "Proposals" section is where you will be able to find the relevant information and tools to prepare and submit proposals for guest investigator projects. At "Data" you will be able to access the Fermi databases and find the software to analyse them. Address all questions and requests to the helpdesk in "Help".
Fermi Observations for MW 749
Mission week 749 starts with a continuation of the -50 deg. modified sine rocking profile from the previous week. On day of year 279 (2022-10-06) at 03:38 UT there is a 10-minute freeze observation during which an updated -50 deg. modified sine profile is loaded. This profile continues until the end of the mission week. Note that positive rock angles are south and negative angles are north.
Latest News
Aug 10, 2022
NASA's Fermi Confirms Star Wreck as Source of Extreme Cosmic Particles
Astronomers have long sought the launch sites for some of the highest-energy protons in our galaxy. Now a study using 12 years of data from NASA's Fermi Gamma-ray Space Telescope confirms that one supernova remnant is just such a place.
+ Read More
Jul 1, 2022
Publication of Improved GRB Localizations from Fermi-GBM
Improved localizations for gamma-ray bursts (GRB) identified with the Fermi Gamma-Ray Burst Monitor (GBM) are now available at Zenodo.org (also linked via the FSSC). They cover the time range spanning the first detection of GRBs by GBM in July 2008 through July 2019, the date when the Fermi GBM Team first implemented its improvements to automated GRB localizations. The improved localizations are more accurate with a lower systematic uncertainty, resulting in a >2x reduction in the 90% localization area for most GRBs. Please note that these localizations may differ slightly from those posted at the FSSC and in the GBM GRB catalog. The corresponding response functions and spectral fits will be updated in the forthcoming GBM catalog. These new localizations benefit both multimessenger and time-domain astrophysics analyses.
DOI: 10.5281/zenodo.6727152
Jun 21, 2022
Fermitools 2.2.0 Released
An updated version (2.2.0) of the Fermitools is now available. This release is primarily aimed at solving problems that have made the Fermitools difficult to build and led to installation problems and lengthy installation times due to dependency resolution and dependency conflicts. These goals were primarily achieved by removing CERN's ROOT package from the Fermitools, which was the source of many of these issues. This should allow future development to proceed more quickly.An updated version (2.2.0) of the Fermitools is now available. This release is primarily aimed at solving problems that have made the Fermitools difficult to build and led to installation problems and lengthy installation times due to dependency resolution and dependency conflicts. These goals were primarily achieved by removing CERN's ROOT package from the Fermitools, which was the source of many of these issues. This should allow future development to proceed more quickly.
+ Full Release Notes