The Fermi Science Support Center (FSSC) runs the guest investigator program, creates and maintains the mission time line, provides analysis tools for the scientific community, and archives and serves the Fermi data. This web site is the portal to Fermi for all guest investigators.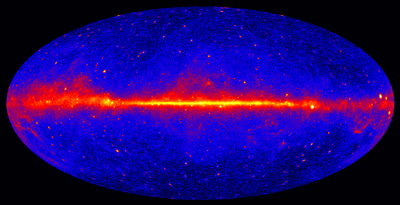 Look into the "Resources" section for finding schedules, publications, useful links etc. The "Proposals" section is where you will be able to find the relevant information and tools to prepare and submit proposals for guest investigator projects. At "Data" you will be able to access the Fermi databases and find the software to analyse them. Address all questions and requests to the helpdesk in "Help".
Fermi Observations for MW 713
Mission week 713 starts with a continuation of the +/-50 deg. rocking profile from the previous week. On day of year 028 (2022-01-28) at 03:50 UT there is a 10-minute freeze observation during which an updated +/-50 deg. profile is loaded. That profile continues until the end of the mission week. Note that positive rock angles are south, and negative angles are north.
Latest News
Jan 25, 2022
Fermi Cycle 15 Proposal Deadline is Approaching
The deadline for Fermi Cycle-15 Guest Investigator proposals is fast approaching: Feb 17, 2022, 16:30 EST. To help you in preparing your proposals, the Fermi Science Support Center will host a virtual workshop on Jan. 28, at 13:00 EST. We will provide information on proposal submission and evaluation processes, as well as the latest news on Fermi.
Dec 14, 2021
LAT Light Curve Repository
The Fermi Large Area Telescope Collaboration has released a repository of flux light curves for more than 1500 variable sources from the LAT catalog calculated on 3-day, 1-week, and 1-month time intervals. The light curves will be frequently updated as new data arrives. The web interface to the repository provides a visualization capability with catalog overlays as well as a search feature. You can find a additional details here.
Aug 06, 2021
Dr. Ke Fang Receives the 2021 Shakti P. Duggal Award
Congratulations to Dr. Ke Fang, professor at the University of Wisconsin-Madison, on the 2021 Shakti P. Duggal Award presented by the International Union of Pure and Applied Physics (IUPAP). Fang's research focuses on understanding the universe through its energetic messengers, including ultra-high-energy cosmic rays, gamma rays, and high-energy neutrinos, with HAWC, Fermi, and IceCube.
+ Read More