The Fermi Science Support Center (FSSC) runs the guest investigator program, creates and maintains the mission time line, provides analysis tools for the scientific community, and archives and serves the Fermi data. This web site is the portal to Fermi for all guest investigators.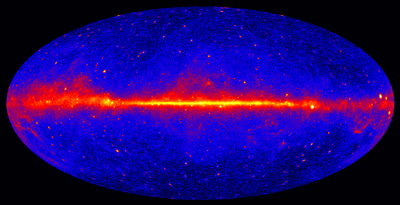 Look into the "Resources" section for finding schedules, publications, useful links etc. The "Proposals" section is where you will be able to find the relevant information and tools to prepare and submit proposals for guest investigator projects. At "Data" you will be able to access the Fermi databases and find the software to analyse them. Address all questions and requests to the helpdesk in "Help".
Fermi Observations for MW 525
Mission Week 525 starts with a continuation of the - 50 degree fixed rocking profile from the end of MW524. On DOY 176 23:15 UT a 10 minute freeze observation occurs duing which a +/-50 degree rocking profile is loaded. A single rock from -50 to + 50 degrees is performed. On DOY 177 00:46 UT a second freeze observation occurs to load a +50 degree only rock profile. The +50 degree only profile is used for the remainder of the week. Note that positive rock angles are south, and negative angles are north.
Latest News
Jun 11, 2018
NASA's Fermi Satellite Celebrates 10 Years of Discoveries
On June 11, NASA's Fermi Gamma-ray Space Telescope celebrates a decade of using gamma rays, the highest-energy form of light in the cosmos, to study black holes, neutron stars, and other extreme cosmic objects and events.
+ Read More
Apr 03, 2018
Fermi Resumes Science Operations
Both instruments on Fermi have been returned to operational status and are actively collecting science data. For the LAT, this data will be used to monitor performance as the instrument returns to normal operating temperatures. GBM has returned to full functionality.
Mar 27, 2018
Update on Fermi Operations
Fermi was commanded out of sun-point mode earlier today (3/27). It is now oriented at a 50 degree rock angle (towards the northern hemisphere) with respect to the zenith. Operations at a fixed rock angle will continue while spacecraft performance is monitored. We plan to start bringing the instruments back online over the next week or so - GBM first and then the LAT. We will post updates on the status of the observatory as the recovery proceeds.