The Fermi Science Support Center (FSSC) runs the guest investigator program, creates and maintains the mission time line, provides analysis tools for the scientific community, and archives and serves the Fermi data. This web site is the portal to Fermi for all guest investigators.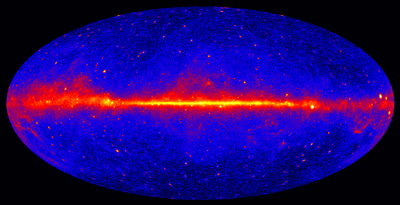 Look into the "Resources" section for finding schedules, publications, useful links etc. The "Proposals" section is where you will be able to find the relevant information and tools to prepare and submit proposals for guest investigator projects. At "Data" you will be able to access the Fermi databases and find the software to analyse them. Address all questions and requests to the helpdesk in "Help".
Fermi Observations for MW 660
Mission week 660 starts with a continuation of the symmetric +/- 50 deg. rocking profile from the previous week. On day of year 21 (2021-01-21) at 02:12 there is a 10 minute freeze observation during which an updated symmetric profile is loaded This profile continues until the end of the week. Note that positive rock angles are south, and negative angles are north.
Latest News
Jan 27, 2021
Fermi Cycle 14 Proposer Workshop
The deadline for Fermi Cycle 14 Guest Investigator proposals is coming soon: Feb 19 at 16:30 EST. To help you prepare your proposals, the project and science support center will host a virtual workshop to provide information about updates to the program (for example, preparing proposals for dual anonymous review) and to provide support for new proposers. Please register using this form by Feb 1 so that we can send you the details to join the virtual meeting.
Jan 13, 2021
NASA Missions Unmask Magnetar Eruptions in Nearby Galaxies
On April 15, 2020, a brief burst of high-energy light swept through the solar system, triggering instruments on several NASA and European spacecraft. Now, multiple international science teams conclude that the blast came from a supermagnetized stellar remnant known as a magnetar located in a neighboring galaxy.
+ Read More
Nov 4, 2020
NASA Missions Help Pinpoint the Source of a Unique X-ray, Radio Burst
On April 28, a supermagnetized stellar remnant known as a magnetar blasted out a simultaneous mix of X-ray and radio signals never observed before. The flare-up included the first fast radio burst (FRB) ever seen from within our Milky Way galaxy and shows that magnetars can produce these mysterious and powerful radio blasts previously only seen in other galaxies.
+ Read More