The Fermi Science Support Center (FSSC) runs the guest investigator program, creates and maintains the mission time line, provides analysis tools for the scientific community, and archives and serves the Fermi data. This web site is the portal to Fermi for all guest investigators.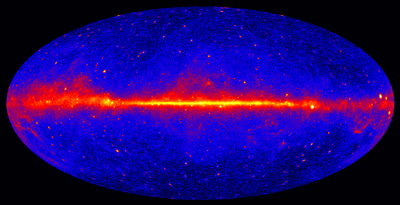 Look into the "Resources" section for finding schedules, publications, useful links etc. The "Proposals" section is where you will be able to find the relevant information and tools to prepare and submit proposals for guest investigator projects. At "Data" you will be able to access the Fermi databases and find the software to analyse them. Address all questions and requests to the helpdesk in "Help".
Fermi Observations for MW 757
Latest News
Dec 2, 2022
Caveats About Analyzing GRB 221009A Data
The FSSC has a created a page describing important caveats for the extraordinarily bright GRB 221009A. Fermi users should be aware of impacts on instrument performance and defined Bad Time Intervals for the LAT and GBM data before starting data analysis. If you have any questions or concerns, please contact the Fermi help desk at fermihelp@milkyway.gsfc.nasa.gov.
Oct 13, 2022
NASA's Swift, Fermi Missions Detect Exceptional Cosmic Blast
Astronomers around the world are captivated by an unusually bright and long-lasting pulse of high-energy radiation that swept over Earth Sunday, Oct. 9. The emission came from a gamma-ray burst (GRB) - the most powerful class of explosions in the universe - that ranks among the most luminous events known.
+ Read More
Aug 10, 2022
NASA's Fermi Confirms Star Wreck as Source of Extreme Cosmic Particles
Astronomers have long sought the launch sites for some of the highest-energy protons in our galaxy. Now a study using 12 years of data from NASA's Fermi Gamma-ray Space Telescope confirms that one supernova remnant is just such a place.
+ Read More