The Fermi Science Support Center (FSSC) runs the guest investigator program, creates and maintains the mission time line, provides analysis tools for the scientific community, and archives and serves the Fermi data. This web site is the portal to Fermi for all guest investigators.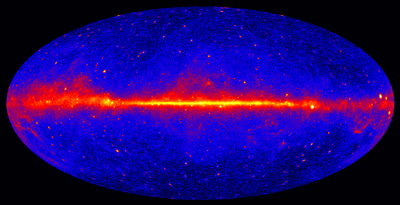 Look into the "Resources" section for finding schedules, publications, useful links etc. The "Proposals" section is where you will be able to find the relevant information and tools to prepare and submit proposals for guest investigator projects. At "Data" you will be able to access the Fermi databases and find the software to analyse them. Address all questions and requests to the helpdesk in "Help".
Fermi Observations for MW 646
Mission week 646 starts with a continuation of the +/- 50 deg. rocking profile from the previous week. On day of year 289 (2020-10-15) at 01:04 UTC there is a 10 minute freeze observation during which an updated symmetric +/- 50 deg. rocking profile is loaded. This profile continues until the end of the week. Note that positive rock angles are south, and negative angles are north.
Latest News
Sep 18, 2020
Fermi LAT Resumes Normal Operations
The LAT instrument has resumed collection of science data following an outage on September 17 to recover from a reboot of one of the onboard processors. The LAT was not collecting science data for 11 hours between 9:28 UTC and 20:28 UTC.
Aug 25, 2020
NASA Missions Explore a 'TIE Fighter' Active Galaxy
Not so long ago, astronomers mapped a galaxy far, far away using radio waves and found it has a strikingly familiar shape. In the process, they discovered the object, called TXS 0128+554, experienced two powerful bouts of activity in the last century.
+ Read More
Jun 23, 2020
Fermi Cycle-13 GI Selected Programs Announced
The stage-I selection process for the Fermi Cycle-13 Guest Investigator program has been completed. There were a total of 41 new programs selected for stage-I out of 109 proposals submitted. A list of the selected programs, including the PIs, titles and abstracts is available on the FSSC web site.