The Fermi Science Support Center (FSSC) runs the guest investigator program, creates and maintains the mission time line, provides analysis tools for the scientific community, and archives and serves the Fermi data. This web site is the portal to Fermi for all guest investigators.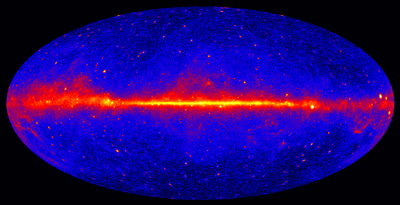 Look into the "Resources" section for finding schedules, publications, useful links etc. The "Proposals" section is where you will be able to find the relevant information and tools to prepare and submit proposals for guest investigator projects. At "Data" you will be able to access the Fermi databases and find the software to analyse them. Address all questions and requests to the helpdesk in "Help".
Fermi Observations for MW 581
Mission week 581 starts with a continuation of the modified sine profile from the previous week. At 01:14 UT on day of year 199 there is a 10 minute freeze observation during which an updated modified sine profile is loaded. Then, on DOY 202 at 13:20 UT there is another 10 minute freeze observation during which a second update to the profile is loaded. This profile continues until the end of the mission week. Note that positive rock angles are south, and negative angles are north.
Latest News
Jul 3, 2019
Release of the Second Fermi LAT GRB Catalog
The second catalog of LAT-detected gamma-ray bursts (GRBs) is now available in a searchable table the HEASARC's Browse interface. The catalog contains 186 GRBs covering the first 10 years of operations, from 2008 August 4 to 2018 August 4.
Jun 13, 2019
NASA's Fermi Mission Reveals its Highest-energy Gamma-ray Bursts
For 10 years, NASA's Fermi Gamma-ray Space Telescope has scanned the sky for gamma-ray bursts (GRBs), the universe's most luminous explosions. A new catalog of the highest-energy blasts provides scientists with fresh insights into how they work.
+ Read More
Mar 19, 2019
NASA's Fermi Satellite Clocks 'Cannonball' Pulsar Speeding Through Space
Astronomers found a pulsar hurtling through space at nearly 2.5 million miles an hour - so fast it could travel the distance between Earth and the Moon in just 6 minutes. The discovery was made using NASA's Fermi Gamma-ray Space Telescope and the National Science Foundation's Karl G. Jansky Very Large Array (VLA).
+ Read More