The Fermi Science Support Center (FSSC) runs the guest investigator program, creates and maintains the mission time line, provides analysis tools for the scientific community, and archives and serves the Fermi data. This web site is the portal to Fermi for all guest investigators.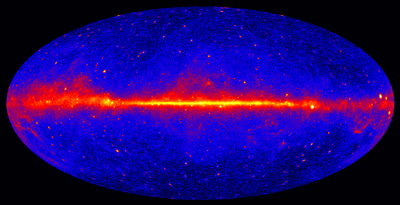 Look into the "Resources" section for finding schedules, publications, useful links etc. The "Proposals" section is where you will be able to find the relevant information and tools to prepare and submit proposals for guest investigator projects. At "Data" you will be able to access the Fermi databases and find the software to analyse them. Address all questions and requests to the helpdesk in "Help".
Fermi Observations for MW 573
Mission week 573 starts with a continuation of the asymmetric +50/-60deg rocking profile from the previous mission week. On DOY 145 (Saturday, May 25) at 10:10 UTC there is a 10 minute freeze observation during which a +50deg amplitude modified sine profile is loaded and the beta angle climbs above 24 degrees (high beta regime). This profile continues until the end of the mission week. Note that positive rock angles are south, and negative angles are north.
Latest News
Mar 19, 2019
NASA's Fermi Satellite Clocks 'Cannonball' Pulsar Speeding Through Space
Astronomers found a pulsar hurtling through space at nearly 2.5 million miles an hour - so fast it could travel the distance between Earth and the Moon in just 6 minutes. The discovery was made using NASA's Fermi Gamma-ray Space Telescope and the National Science Foundation's Karl G. Jansky Very Large Array (VLA).
+ Read More
Mar 11, 2019
Release of the Interstellar Emission Model for the 4FGL Catalog Analysis
As a supplement to the preliminary release of the fourth catalog of Fermi-LAT sources (4FGL), the updated model of interstellar gamma-ray emission that was used for the catalog analysis is also being made available. This new model, gll_iem_v07.fits, is provided as a FITS cube together with a detailed description of the construction of the model, including a set of caveats describing aspects of the model that will be updated in a future release. Accompanying the interstellar emission model are models for the isotropic emission for different LAT response functions and event types. As for the 4FGL catalog, the interstellar emission model and isotropic spectra were developed using Pass 8 P8R3 event selections. You can find more information about the new files on the LAT background models page.
Mar 6, 2019
Ninth International Fermi Symposium
The Ninth International Fermi Symposium will be held at the Misty Hills Conference Centre in Johannesburg, South Africa from March 29 to April 3, 2020. More details will be posted on the symposium website as they become available.