The Fermi Science Support Center (FSSC) runs the guest investigator program, creates and maintains the mission time line, provides analysis tools for the scientific community, and archives and serves the Fermi data. This web site is the portal to Fermi for all guest investigators.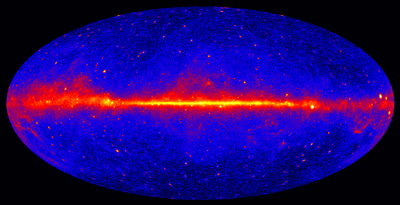 Look into the "Resources" section for finding schedules, publications, useful links etc. The "Proposals" section is where you will be able to find the relevant information and tools to prepare and submit proposals for guest investigator projects. At "Data" you will be able to access the Fermi databases and find the software to analyse them. Address all questions and requests to the helpdesk in "Help".
Fermi Observations for MW 590
Mission week 590 starts with a continuation of the symmetric +/-50 degree rocking profile from the previous week. At 04:55 on day of year 262 (September 19) there is a 10 minute freeze observation during which an updated symmetric +/- 50 degree rocking profile is loaded. On DOY 264 (Sept. 21) at 01:24 there is a 10 minute freeze observation during which an asymmetric -50/+60 degree profile is loaded. This continues until DOY 268 (Sept. 25) at 00:28 where a modified sine profile (-50 amp during spacecraft day, fixed +50 deg. during spacecraft night is loaded. This profile continues until the end of the mission week. Note that positive rock angles are south, and negative angles are north.
Latest News
Sep 20, 2019
9th International Fermi Symposium
Please join us in Johannesburg, South Africa March 29-April 3 for the next Fermi Symposium. Abstracts are due November 1st. More information can be found on the Symposium Webpage.
Aug 15, 2019
Moon Glows Brighter Than Sun in Images From NASA's Fermi
If our eyes could see gamma rays, the Moon would appear brighter than the Sun! That's how NASA's Fermi Gamma-ray Space Telescope has seen our neighbor in space for the past decade. These gamma-ray observations are a reminder that astronauts on the Moon will require protection from the same cosmic rays that produce this high-energy gamma radiation.
+ Read More
Aug 5, 2019
Fermi Returns to Normal Operations
Friday night 8/2/19: The Fermi flight operations has returned the observatory to normal sky-survey mode and science operations have been resumed. The situation will continue to be carefully monitored.