The Fermi Science Support Center (FSSC) runs the guest investigator program, creates and maintains the mission time line, provides analysis tools for the scientific community, and archives and serves the Fermi data. This web site is the portal to Fermi for all guest investigators.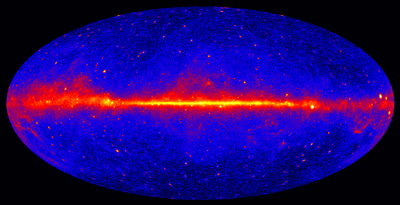 Look into the "Resources" section for finding schedules, publications, useful links etc. The "Proposals" section is where you will be able to find the relevant information and tools to prepare and submit proposals for guest investigator projects. At "Data" you will be able to access the Fermi databases and find the software to analyse them. Address all questions and requests to the helpdesk in "Help".
Fermi Observations for MW 617
Mission Week 617 starts with a short continuation of the asymmetric -50/+60 degree rocking profile from the previous mission week. At the beginning of the mission week there is a 10 minute freeze observation during which updated rocking profile is loaded. The updated profile is used for the remainder of the mission week.
Latest News
Jan 14, 2020
Custom Pulsations Searches
Custom pulsations searches for all of GBM catalogued and non-catalogued sources are now available! For more information, please visit: the NSSTC GBM page.
Dec 19, 2019
NASA's Fermi Mission Links Nearby Pulsar's Gamma-ray 'Halo' to Antimatter Puzzle
NASA's Fermi Gamma-ray Space Telescope has discovered a faint but sprawling glow of high-energy light around a nearby pulsar. If visible to the human eye, this gamma-ray "halo" would appear about 40 times bigger in the sky than a full Moon. This structure may provide the solution to a long-standing mystery about the amount of antimatter in our neighborhood.
+ Read More
Nov 21, 2019
Missing data in LAT data server
On November 15, 2019 the FSSC became aware that approximately 17 days of photon data had been missing from the LAT data server for almost a year. The missing data covered a continuous span from November 1, 2018 (MET 562723575) to November 17, 2018 (MET 564168732). The data was accidentally deleted during the switchover to the P8R3 data on November 26, 2018. Only photon data retrieved from the FSSC's LAT data server was affected. The weekly photon all-sky files and the extended and spacecraft data were not affected. The missing data has now been restored to the LAT data server. The issue seems to have been a one-off problem due to the switchover, but the FSSC has taken steps to better detect any such problems in the future.