The Fermi Science Support Center (FSSC) runs the guest investigator program, creates and maintains the mission time line, provides analysis tools for the scientific community, and archives and serves the Fermi data. This web site is the portal to Fermi for all guest investigators.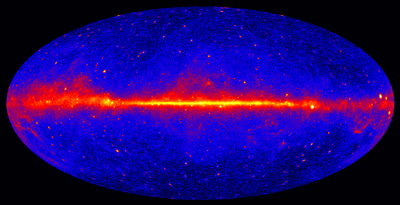 Look into the "Resources" section for finding schedules, publications, useful links etc. The "Proposals" section is where you will be able to find the relevant information and tools to prepare and submit proposals for guest investigator projects. At "Data" you will be able to access the Fermi databases and find the software to analyse them. Address all questions and requests to the helpdesk in "Help".
Fermi Observations for MW 486
Mission Week 486 continues the 50-degree sky-survey rocking profile. The week begins with begins with a 10-minute inertial point observation during which the new survey profile is uploaded. This profile continues through the end of the week. There are no special observations scheduled this week.
Latest News
Sep 05, 2017
'Extreme' Telescopes Find the Second-fastest-spinning Pulsar
By following up on mysterious high-energy sources mapped out by NASA's Fermi Gamma-ray Space Telescope, the Netherlands-based Low Frequency Array (LOFAR) radio telescope has identified a pulsar spinning at more than 42,000 revolutions per minute, making it the second-fastest known.
+ Read More
Jul 18, 2017
Gamma-ray Telescopes Reveal a High-energy Trap in Our Galaxy's Center
A combined analysis of data from NASA's Fermi Gamma-ray Space Telescope and the High Energy Stereoscopic System (H.E.S.S.), a ground-based observatory in Namibia, suggests the center of our Milky Way contains a "trap" that concentrates some of the highest-energy cosmic rays, among the fastest particles in the galaxy.
+ Read More
May 31, 2017
Stage-I Selection Complete for Cycle-10 GI Program
The stage-I selection process for the Fermi Cycle-10 Guest Investigator program has been completed. There were a total of 43 new programs selected for stage I out of 183 proposals submitted. A list of the selected programs, including the PIs, titles and abstracts is available on the FSSC web site.