The Fermi Science Support Center (FSSC) runs the guest investigator program, creates and maintains the mission time line, provides analysis tools for the scientific community, and archives and serves the Fermi data. This web site is the portal to Fermi for all guest investigators.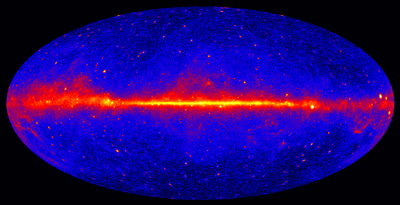 Look into the "Resources" section for finding schedules, publications, useful links etc. The "Proposals" section is where you will be able to find the relevant information and tools to prepare and submit proposals for guest investigator projects. At "Data" you will be able to access the Fermi databases and find the software to analyse them. Address all questions and requests to the helpdesk in "Help".
Fermi Observations for MW 766
Mission Week 766 begins with a continuation of the symmetric +/-50 deg. profile from the previous week. Then, on DOY 33 (2023-2-2) at 01:30 UT a 10-minute freeze observation occurs during which a symmetric +/-50 deg. profile is loaded. This profile continues until the end of the mission week. Note that positive rock angles are south, and negative rock angles are north.
Latest News
Jan 26, 2023
NASA's Fermi Detects First Gamma-Ray Eclipses From 'Spider' Star Systems
Scientists have discovered the first gamma-ray eclipses from a special type of binary star system using data from NASA's Fermi Gamma-ray Space Telescope. These so-called spider systems each contain a pulsar - the superdense, rapidly rotating remains of a star that exploded in a supernova - that slowly erodes its companion.
+ Read More
Jan 23, 2023
Fermi Cycle 16 Proposal Deadline is Approaching
The deadline for Fermi Cycle-16 Guest Investigator proposals is fast approaching: Feb 16, 2023, 16:30 EST. To help you in preparing your proposals, the Fermi Science Support Center will host a virtual workshop on Jan. 24, at 14:00 EST. We will provide information on proposal submission and evaluation processes, as well as the latest news on Fermi.
Jan 19, 2023
Fermi Summer School
We are pleased to announce that applications are now being accepted for the Fermi Summer School. This will be the 12th year that the Fermi Mission, in partnership with the University of Delaware, has organized a workshop designed to support graduate students and post docs getting started with Fermi, gamma-ray astrophysics and related topics.
+ Learn More