The Fermi Science Support Center (FSSC) runs the guest investigator program, creates and maintains the mission time line, provides analysis tools for the scientific community, and archives and serves the Fermi data. This web site is the portal to Fermi for all guest investigators.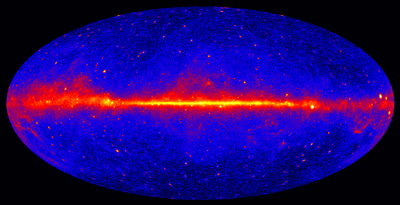 Look into the "Resources" section for finding schedules, publications, useful links etc. The "Proposals" section is where you will be able to find the relevant information and tools to prepare and submit proposals for guest investigator projects. At "Data" you will be able to access the Fermi databases and find the software to analyse them. Address all questions and requests to the helpdesk in "Help".
Fermi Observations for MW 810
Mission Week 810 begins with a 10-minute freeze observation during which a -50 deg. modified sine profile is loaded. Then, on DOY 342 (2023-12-8) at 17:20 UT a 10-minute freeze observation occurs during which an asymmetric -50/+60 deg. profile is loaded. Next, on DOY 345 (2023-12-11) at 18:10 UT a 10-minute freeze observation occurs during which a symmetric +/-50 deg. profile is loaded. This profile continues until the end of the mission week. The survey repeat period is based on a 5698s orbital period. Note that positive rock angles are south, and negative rock angles are north.
Latest News
Nov 28, 2023
NASA's Fermi Mission Nets 300 Gamma-Ray Pulsars ... and Counting
A new catalog produced by a French-led international team of astronomers shows that NASA's Fermi Gamma-ray Space Telescope has discovered 294 gamma-ray-emitting pulsars, while another 34 suspects await confirmation. This is 27 times the number known before the mission launched in 2008.
+ Read More
Nov 14, 2023
Fermi-LAT Daily Aperture Light Curve of T CrB Now Available
T CrB (T Coronae Borealis) is a known recurrent nova with its long-anticipated next explosion expected in early 2024. Because of its proximity (distance ~0.9 kpc), T CrB is expected to be detected brightly as a >100 MeV gamma-ray transient. In consideration of its expected bright outburst in gamma rays, a preliminary daily light curve is publicly available.
Nov 01, 2023
LAT Server Offline
Due to system maintenance, the LAT data server will be offline starting around 6:30am EDT on Monday, November 6, and no new GBM data will be added to the archive. Service should be restored by 3pm.